Stationary recorders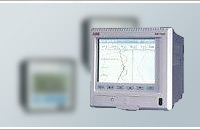 Stationary recorders let keep the record in local memory, on removable storage medium or on the paper.
The development of communication possibilities let create (basing on recorders) industrial nets and file documents on the computer.
Diffuse systems of dates collecting
The othe group of appliances that let measure and register parameters of the process are measuring modules that let create, so called, diffuse systems of dates collecting. These appliances have got measuring outputs and communication inputs. The created industrial net is connected to the computer, where the documents are filed.
The module diffusion on the object is connected with large distances, on that the transmission must be ensured. Transmission lines for industrial communication interfaces RS-485 can reach over 1000 m (without using any intensifing systems – repeaters).